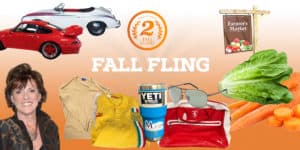 On October 20-21, Lyn will be the featured guest speaker at the MAAP Fall Fling event!
The can't-miss event, offers a banquet at Hotel Madison with special guest speaker, Lyn St. James, tours of MAAP, a low competition car show, time to explore Harrisonburg and the farmers market, and experience the unique cuisine the town has to offer and much more!
Tours will be from surrounding areas in Virginia and end in Harrisonburg at the downtown pavilion right next to the Farmers Market. Take a stroll along the sidewalk and venture right into the heart of downtown. With so much to do and see, you'll want to come back every year! We hope to see you soon!
Tickets are $59 and include a car show entry, banquet and silent auction and tours of fall colors. Additional banquet tickets are $40. Visit the MAAP website for additional details.