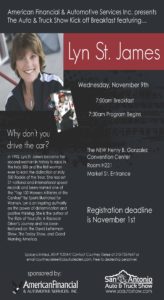 On Wednesday, November 9, Lyn St. James is set to be the keynote speaker at the 2016 San Antonio Auto & Truck Show kick off breakfast.
The San Antonio Automobile Dealers Association presents the 48th annual show – which this year runs from November 10-13 at the Henry B. Gonzalez Convention Center in San Antonio, Texas.
Space is limited. To purchase tickets, please visit the San Antonio Auto & Truck Show website. Or for additional details and information, please also visit their Facebook page.