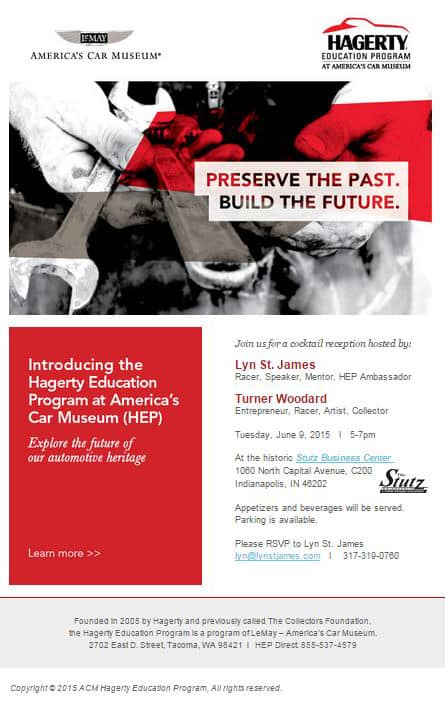 Former Indy 500 driver named program ambassador
TACOMA, Wash. (May 19, 2015); – Automotive restoration and preservation education is entering the motorsports realm, thanks to record-breaking racer Lyn St. James, who was named an ambassador of the Hagerty Education Program at America's Car Museum (HEP). HEP, a program dedicated to preparing young adults for careers in automotive restoration, supports hands-on, career based training for students in the United States and Canada. HEP is a program of ACM, the largest automotive museum in North America.
Embracing HEP's mission, St. James joins the team to increase visibility of the program. She has made significant contributions to motorsports both on and off the track, making history as the first woman to win the Indy 500 Rookie of the Year award in 1992. Additionally, St. James has raced for more than 40 years and has had victories at the 24 Hours of Daytona, 12 Hours of Sebring, Watkins Glen and Elkhart Lake races, set-closed course speed records of over 225 mph and launched a foundation to help women advance their careers in motorsports.