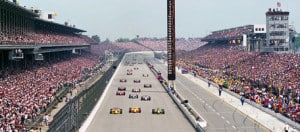 Twenty years ago, the defending champions failed to qualify for Race Day. A first-lap, first-turn crash left one driver unconscious and several others rattled. In the final laps, a driver named Goodyear, on Firestone tires, had the lead one moment and agony the next – all without ever slowing down. This was the 1995 Indianapolis 500.
Story by John Schwarb
Design by Zach Hudson | Video by Chris Cross
IMS.com
As the 79th Indianapolis 500 crawled under caution with 10 laps to go, Jacques Villeneuve danced his car left and right down the backstretch in a tactical chess game.
Eighteen cars remained on the track, but that moment belonged to just two, the leader and the follower: Scott Goodyear, a 35-year-old native of Ontario, Canada, and Jacques Villeneuve, a 24-year-old from Quebec.
The view of the leader's rear wing was familiar for Villeneuve. The previous year, at the 1994 Indianapolis 500, Villeneuve was a surprising runner-up. Sitting second a year later was even more of a surprise because he was in that slot after rebounding from a two-lap penalty, levied after he passed the Pace Car on Lap 36 of 200.