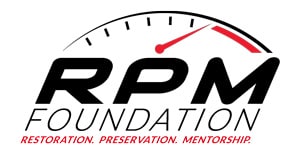 The RPM (Restoration Preservation Mentorship) Foundation is committed to being at the center of a movement that protects our automotive heritage by preserving skills & knowledge and passing them along to the next generations, safeguarding the future of the collector car industry.
Founded in 2005 by Hagerty and formerly known as the Hagerty Education Program, is a grant-giving program supporting the pathway to careers for young adults through automotive & marine restoration & preservation education programs, in communities across the United States and Canada.
The RPM Foundation also funds scholarships through vocational schools and colleges plus paid internships & apprenticeships through master craftsmen's workshops.
"I started working with the foundation in 2014 and I'm proud to serve as their ambassador. It's important to create pathways to careers for young adults in restoration and preservation," Lyn recently explained.
Dedicated to the mission of ensuring that the critical skills and knowledge necessary to restore and preserve collector vehicles are not lost, we are committed to supporting hands-on, career-based training of skills and trades while promoting America's automotive heritage and the interests of the collector community.
The RPM Foundation has awarded more than $2.78 million in scholarships and grants since 2005 impacting students, high schools, vocational schools, community colleges, colleges and master craftsmen's automotive restoration shops. This is the heart of The RPM Foundation.
Please take a moment to watch RPM's promotional video below. For additional information or to apply for a scholarship, please visit the RPM Foundation website.