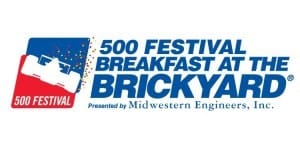 Two of racing's most influential women, Janet Guthrie and Lyn St. James will join Alice Hanks to discuss the evolution of women in racing at the 500 Festival Breakfast at the Brickyard presented by Midwestern Engineers, Inc.
While women continue to make advancements in racing, just 60 years ago they were not permitted to set foot in the garage area – let alone competitively race. St. James, Guthrie and Hanks will discuss their experiences as trail blazers for women in auto racing and provide insight into racing's evolution as women continue to push the sport forward. The panel will be moderated by television sports announcer, Bob Jenkins.
First they stopped in to WISH-TV News 8 for a preview. Please click here to watch the video.
In 1977, Janet Guthrie made headlines across America when she became the first woman to qualify and compete in the Indianapolis 500. A pioneer for women in the racing industry, Janet's helmet and race suit can be found in the Smithsonian Institution and she has been inducted into the International Motorsports Hall of Fame and the International Women's Sports Hall of Fame. Of her experience, Guthrie said:
"I was astonished at the fracas. I had been racing for 13 years…being a women had never been a big deal…all of a sudden here is this enormous commotion going on."
Lyn St. James made history in 1992 when she was the first woman to win the Indianapolis 500 Rookie of the Year award. St. James went on to start seven Indianapolis 500s and was named one of Sports Illustrated Top-100 Women Athletes of the Century. Lyn recalled:
"When you come to the Indianapolis 500 you are in a whole different…arena. I'm not sure my feet ever touched the ground during my rookie year."