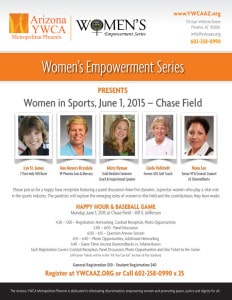 On June 1, 2015 the Metropolitan Phoenix YWCA will present the third Women's Empowerment Series event for 2015 entitled "Women in Sports."
The event begins at 4:30 and will be held at Chase Field.  The event features a cocktail reception with photo opportunities from the panelists:
Lyn St. James, 7 Time Indy 500 Racer 
Misty Hyman, Gold Medalist Swimmer, Coach and Inspirational Speaker 
Nona Lee Senior VP and General Counsel of the AZ Diamondbacks 
Ann Meyers–Drysdale, VP of the Phoenix Suns and Mercury 
Linda Vollstedt, Former ASU Golf Coach
The panel discussion, facilitated by Paola Boivin, sports columnist for Arizona Republic and Stefani Francis, Co-Founder and Managing Director of Navigate, will explore the panelists' career highlights and what led them to a career in sports. They will also discuss their career challenges, transitional careers and what they project for women in sports for the future.
Tickets are $50 ($40 for students). Each registration covers: cocktail reception, panel discussion, photo opportunities and one ticket to the Arizona Diamondbacks vs. Atlanta Braves game that begins at 6:40 that night (June 1 – all game tickets are located in the "All You Can Eat" section of the stadium).
Attendees may click here to register online or call 602-258-0990 X11.
YWCA Metropolitan Phoenix is dedicated to eliminating discrimination, empowering women and promoting peace, justice and dignity for all.